Kouson is a pottery and a family name of kyo yaki
(kyoto style ceramic art, or kiyomizu-ware).
KOSON KILN Fourth Generation YUKO HAYASHI
"Koson Kiln" has a history of over 100years  on the slopes of Chawan-Zaka
next to the famous Kiyomizu temple in Kyoto.  We have mainly been
producing vessels which are made of white and celadon porcelain.
I entered the ceramic world when I was 21 years old.
I have been helping my father with his work  whilst also raising children
and I have been challenging, improving, and pursuing my own ceramic style as a craftsperson….
In October 2016(twenty sixteen),  I was inspired by the technique of making traditional Japanese sweets colld "wagashi"
and I created the unique technique of scissoring ceramics before firing.
I named this one and only scissoring pattern "Tsuchibasami"  or "Scissoring clay"
and I create such ceramics focusing on flower vases and illuminators with fine and brilliant decoration.
As I got an idea from the traditional technique of making Japanese sweets  called "Hasamigiku"
which literally means to cut out petals of chrysanthemums with scissors.
Many of my works  reflect the beauty of chrysanthemum.
However, I'm challenging myself by working with other objects such as wing feathers   scales of fish and so on.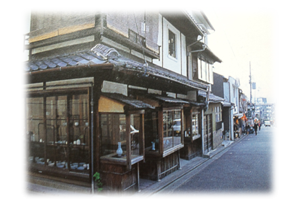 Seishi white porcelain
The most difficult work is needed for a potter's wheel fabrication by the milk white developed from white Koryo (white porcelain) made from Chinese old kiln. White porcelain which is proud of west work technology. Typical beauty of a glaze tone like a rice-flour dumpling to China reminded of an Oriental beauty's skin It names from the Seishi.
celadon
A blue porcelain with the graceful and original deep color tone developed in the blue porcelain which showed fertile maturity to Chinese sung dynasty while succession the advisory process.
Means of transportation
City busIt is a No. 206 system from Kyoto Station. The Gojo-zaka Station alighting On foot 10 minutes
Kyoto busIt is a No. 18 system from Kyoto Station. The Higashiyama Gojo Station alighting On foot 10 minutes
Keihan trainIt is on foot 20 minutes from Shimizu Gojo Station.
Hankyu trainIt is on foot 30 minutes from Kawaramachi Station.
6-541, Gojohashi-higashi, Higashiyama-ku, Kyoto-shi, 〒605-0846
【Telephone】 075-561-6404
【Open】11:00~17:00
【Close】Monday  /  Friday    ※There is no fixed holiday